SPORTIVE AND HUMANITARIAN RALLYE RAID FOR STUDENTS.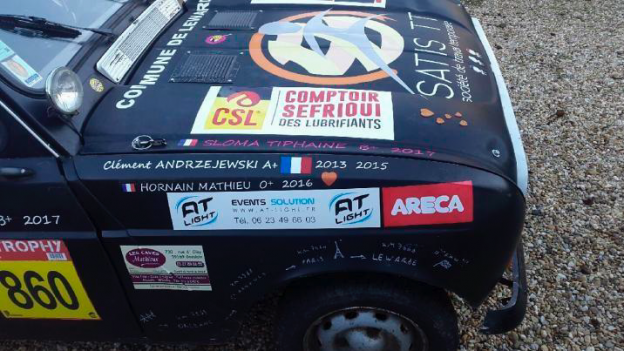 From February 16th to 26th,  2017
Sportive and Humanitarian Rallye raid for students
Goal : to reach France & Morocco by driving the mythic Renault 4L
Each crew set off in their Renault 4Ls, carrying equipment and school supplies to help Morocco's most underprivileged children. Solidarity for the local populations is not just a buzzword for the 4L Trophy™ Rally: it's embedded in its DNA. The emotional response of all participants at the ceremony to hand over donations, organised in partnership with the http://enfantsdudesert.org/  Charity is a highlight of the adventure and testimony to the importance of the solidarity shown by the participants.
Starting : Biarritz – France
Arrival : Marrakesh – Morocco
Durand Production sponsors 2 crews :                                                                          
1)Crew n°1289 : "Back to the 4L trophy"
Crew drivers : Mr Baptiste Varenne & Mr Alexis Ostrovick (students in business school)

https://www.facebook.com/back2the4L/

http://www.back2the4l.fr/
2)  Crew n° 2224 : Human Trell
*More informations on this raid :  http://www.4ltrophy.com/en/